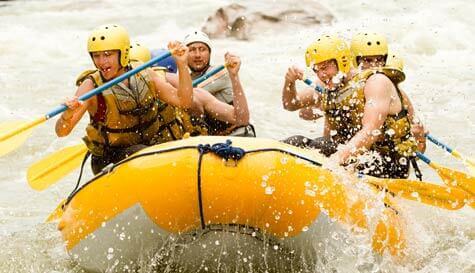 Prepare yourselves for an unbeatable time with the boys - stag party white water rafting is a massive, stagtastic adventure! Our white water rafting experience has pretty much everything you and the boys could want: heart-pumping, adrenaline-fuelled action, it's physically demanding, requires teamwork and also a modicum of having to stay alive. Plus you have to make sure you get the groom home in one piece.

While previous experiences might mean the lads can claim you've led them up a brown coloured stream without a paddle, on this occasion you'll be lining up top-class equipment, qualified instructors and huge stretches of white water with grade 1-4 rapids.

From Cardiff to Edinburgh and Liverpool to Llangollen, you can have a fantastic time on this adrenaline-pumping sport all over, so gather the lads around for some planning and put this down on the itinerary! For stags heading overseas, we all have a host of white water rafting destinations across Europe.

It's fast-paced, it's risky, it requires nerves of steel, but it's also massively rewarding and will lead to a top-quality afternoon for the whole stag party.

Please note: This is a big activity and not for the faint-hearted. You will be facing big water and massive action on what at times can be a demanding physical challenge. Once in the boat, there is no place to hide so this activity might not be for everybody.