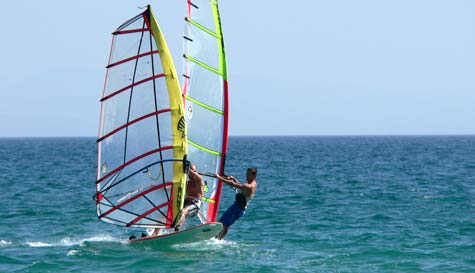 Think of it as surfing's younger, prettier sister - after all, surfing may have a cult-like following and a long history, but when done properly, windsurfing looks magnificent, dealing with graceful gusts of wind rather than crashing waves. Don't think that makes it any less fun though, it's as epic as surfing and a little less wet too!

Windsurfing boards are still essentially a surfboard with a sail, so you're using all the same skills that you would surf traditionally, but with the added assistance of wind to help keep you and the rig upright. Our expert windsurfing instructors will show you the ropes so you're board masters in no time!

It's totally thrilling and exciting - except while you can grab a surfboard and give that a go on any summer holiday, windsurfing is a little more elite, and so something the lads are unlikely to have tried before. It's a great group activity, getting all the boys out on the waves, involved and embarking on a new adventure.

Whether you've got a few experienced surfers in your midst, or you're just looking for a way to make the most of the beach, this stag activity will give the whole group the chance to learn from the best, get pitted, and have a fantastic time with the boys, provided you can go a few minutes without face planting or wiping out!