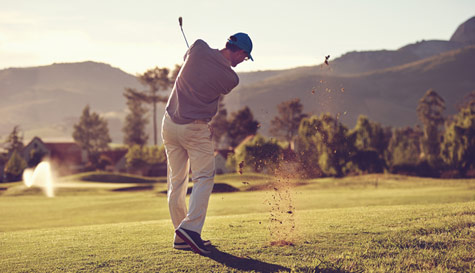 There's no greater way to get out and enjoy a leisurely stroll with the lads than by stopping every few hundred yards and beating the crap out of a little ball with a big club. At least that's what it seems like to anyone watching the StagWeb team hacking and slicing our way across a course.

But for true golf fans, our Woolacombe stag party golf course is a superb site. The incredibly picturesque setting and fantastic climate make it a great venue for a round, even if you're having one of those days where every second shot seems to end up either covered in sand or hitting the water.

And while this is a really relaxing location, the course itself is no gimme. It's a tough and challenging course that is sure to test your golfing prowess (will you be the Tiger Woods pre-or post his collision with that tree?!?) and create a great day of stag competition.

The course has 27 holes in total with a par 3, 9 hole course or a 6251 yard, par 71, 18 hole course. Clubs can be hired on-site and standard golf dress codes apply. You'll also find a floodlit, 23 bay golf range if you just need to fire off a few shots in anger or get your eye in ahead of your own Stag Matchplay Championship. There's also the traditional handy 19th where you can congratulate and commiserate the day's slashers while enjoying a cold glass or two, or perhaps a meal in the on-site restaurant.

The full course was designed by the famous golf architect Martin Hawtree and is spectacularly well kept making it a great playing surface for low handicappers and golf virgins alike.

Not only is our Woolacombe stag party golf course the perfect setting for a great sporting contest and a good way to share a few laughs it's also the ideal spot for the blushing bridegroom to forget about his impending big day and chill out with great mates.