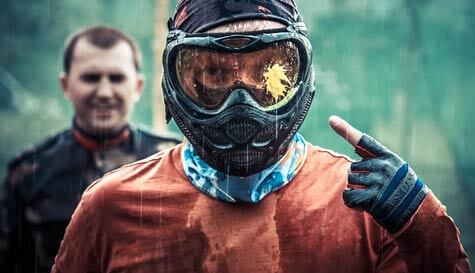 There aren't many times in your life where you're allowed to run around acres of dense woodlands with a pinpoint accurate, semi-automatic paintball gun, chasing your mates and shooting them in the back. It's totally epic, and that's why our Woolacombe stag party paintball centre is so popular.

There's no better place to separate the Call of Duty and Halo heroes from the John McClanes and Lone Wolf McQuades of your group than through a gauntlet of hellfire, with high-velocity paintball bullets flying in every direction. Will you win through a tactical master class or channel your inner Bruce Willis to emerge victorious as champions of all stag kind?

If you're looking to really stitch up the groom, talk to our Woolacombe stag party paintball marshals about tweaking the games to make things especially difficult for the groom. Get really devious by sorting the groom out with a hi-viz jacket (assure him that it's so he doesn't go missing in action before his big day) to make sure he's nice and visible throughout the day should you want to send any paint his way.