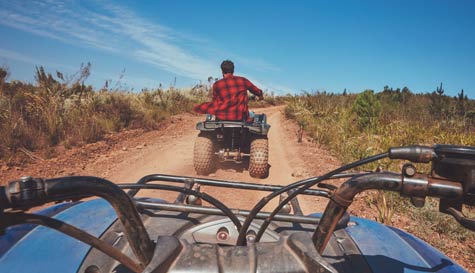 Add a little va-va-voom to the stag weekend by getting off-road on the longest quad bike track in the South West. Quad bikes are superb to drive, all the fun of motorbikes with the added stability of a four-wheeled-vehicle, you'll be facing increasingly tough terrain to really test the lads' driving ability (or lack of?).

The course is stunning and will take you over a huge range of obstacles, some will need a really deft touch and sweet control, at other times you'll get to open the throttle and really let rip. Although we would remind you to try and make sure the groom comes home in one piece. In fact, our number one tip would be "Keep the quads shiny side up at all times". Which is probably easier said than done on these seriously powerful four-wheeled beasts.

You'll be given basic instruction before you head out on the trek, the guide will then asses your driving ability and set the course accordingly with the aim being to give you the maximum amount of fun without any of the stags parking it in a tree or doing an "Ozzy Osbourne".

But the engines are big, the course is epic and this really is just about the most fun you can have on four wheels without hearing sirens.