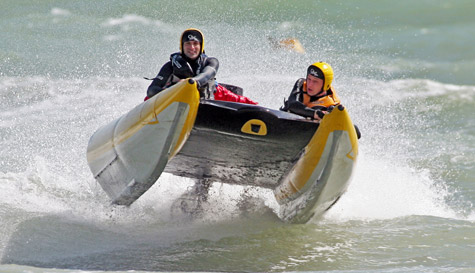 There's a reason our stag party zap cats is such a popular activity among the lads: it's epic in every sense of the word. Fast, powerful, unique, stomach-churning and hair raising... zap cats have got all the ingredients for an adrenaline-fuelled, white knuckle stag party day out on the coast. Whether you're in Brighton, Bournemouth or Newquay, these tiny seafaring terrors never fail to impress!

If you're looking for an all-action high-speed water sport for your stag do, then you've found it! You've essentially got all the thrills and adrenaline of a roller coaster, except on water and without the queuing. An experienced driver will take you out onto the choppy waters taking you on an exhilarating ride, pulling sharp turns, high impact jumps and leaping over waves to balance.

You'll be lucky to see any of the coastline as you fly past at up to 50 miles per hour - you're more likely to be holding on for dear life as these monstrous creations can pull 3Gs in the turns! Forget speedboats, powerboats or jet skis, if you want high octane, heart racing, white knuckle water rides it's got to be zap cats - there's a very good reason they're in the top twenty stag activities, and you and the boys have got a chance to find out for yourselves.
"I feel the need, the need for speed... and something for this hangover would be good too if you've got it. Thanks."