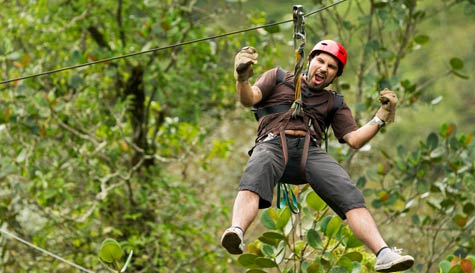 There are few things better than the feeling of soaring through the skies, the wind in your hair, adrenaline coursing through your veins and grinning like a mad man as you launch off for the ride of your life!

Get the lads together and keep calm as you stand over the edge, waiting for the OK to make a dramatic leap of faith down one of our epic zip wire runs. These zip wires aren't like the 20-foot long wire down the local playground: they're higher up, much faster, much longer and tons more fun! With every destination boasting its own unique qualities and zip wire twists, you and the boys will be getting a unique zip wire experience wherever you head for your daredevil stag do!

Determine who among the stags is a genuine Evel Knievel or a wannabe action hero as you line up ready for this thrilling, high-speed descent. You'll be strapped into a seat harness and sent soaring down a run with nothing but a 12-millimetre thick cable to keep you from falling... so nervy stags beware, this is a seriously white-knuckle adventure.

You can reach speeds of up to 40 miles per hour on our awesome zip wire, which means you'll all be sprinting back up to the launchpad for another go after your exhilarating first ride! It won't require any athletic feats from the stags and its simple organisation and execution makes it the ideal stag ice breaker. So strap in and leap off the platform for unrivalled stag party thrills!