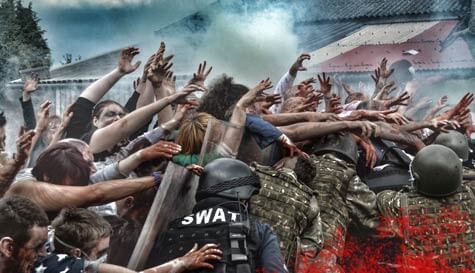 Echoing screams, eerie shrieks and trails of blood and gore smeared across the ground. Welcome to zombie boot camp. Push the boys to the frontline and experience the terrifying 'reality' that is a zombie apocalypse in this convincing setting. You'll become part of a crack special forces unit using modern tactics to defeat those lingering who don't appear to be quite as dead as they should be. And the buggers look hungry!

This is live-action gameplay, you won't be merely shooting and shouting at a computer screen, the zombies you'll be facing are horrifically real, with the traces of the last players still stuck between their teeth!

This is an adrenaline-packed, action-fuelled activity which will leave the boys talking for years to come - give the lads an experience like no other with this once in a lifetime occurrence. Chances are they've never done anything like it so you'll get a hefty degree of stag kudos with an activity that'll leave your adrenaline pumping for hours afterwards.

Awesome Upgrade! - Just in case scrambling around fighting blood dripping zombies in unfamiliar territory wasn't scary enough there's also the chance to upgrade to an after-dark zombie boot camp which takes place from 7.30-10.30pm. You'll receive your briefing and weapon training before setting out into the dark night for a series of stag missions.

Please note that before taking part in the activity you will be asked to sign a waiver.