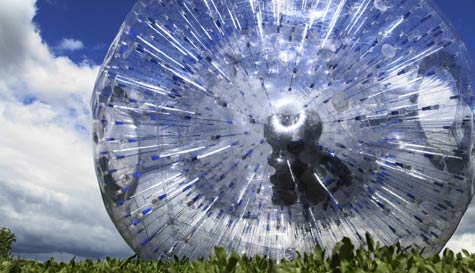 Zorbing is probably one of the craziest and most extreme sports you'll ever try and you'll get serious best man points for treating your mates to an insane hamster ball experience!

This sport was developed down under by a dangerous bunch with a real taste for madness; all you have to do is crawl into a 1 or 2 man 'zorb' (a bouncy plastic human-sized hamster ball) and take to a hilariously steep or bumpy slope or hill. Plop the gigantic bubble on a bit of water and try your best walking on water impressions before inevitably tumbling over or taking the plunge during a spot of aqua zorbing.

You'll be gently pushed down and then the slope will see you tumbling down at top speeds of up to 30 to 40 kilometres per hour! You'll be screaming and laughing or both and maybe even cursing the best man under your breath, until the slope that corrects the zorb naturally comes to rest - and then you'll want to go again!

Zorbing is a great activity to kick off your stag weekend with the boys and is sure to provide some laughs and something totally different for everyone to experience. We're willing to bet that your group won't have tried out this terrific activity before - zorbing will give them some incredible memories to take away! Feel the adrenaline and see the countryside in your destination from all angles with this fantastic activity. Ever felt like you were missing out on all your childhood pet's fun? Well now's your chance to have a go!