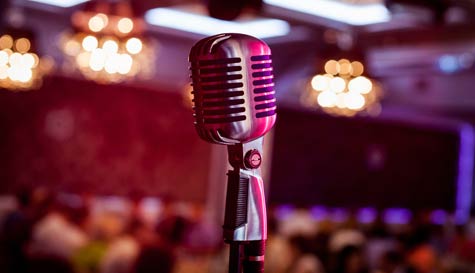 The chief aim of any good stag night is to have a bloody good laugh, not all of that can be purely at the groom expense (although it is your duty as stags to ensure the blushing bridegroom doesn't have life too easy) so why not let the professionals help kick start any epic night of comedy capers?
Our Bath comedy venue is one of the best on the circuit and has seen some of the UK's funniest faces take to the stage including:
Milton Jones
Sarah Millican
Micky Flannigan
Jimmy Carr
Russell Howard
Mark Watson
Chris Ramsey
Sarah Pascoe
Jason Manford
And many more...
For those that have never been, a live comedy night really is a superb way to see comedy. Far more intimate than a theatre or stadium gig, comics tend to relax far more with the audience, making you really feel part of show. The show will be introduced by the venues host/comedy compere who will introduce 2 - 3 acts (depending on the acts and length of their sets). You might well recognise some acts from comedy shows such as QI, Have I Got News For You or Mock the Week as many of the TV panellists are plucked from the UK's vibrant comedy circuit.
You'll have a reserved table waiting for you so you won't be squeezed in at the back or have to queue for tickets and straight after the show the venue is transformed and is one of Bath's most popular club nights. There is of course a bar to keep the guys well-watered before, during and after the show. You can also eat prior to the show. Please speak to our team about dining options.
It's a great way to see up and coming comedy stars and the UK's next big thing. Acts our own StagWeb team have seen at local comedy venues include Russell Howard, Lee Evans and Michael Macintyre. It's also not unheard of for big name stars to drop by, testing out new material for UK tours or Edinburgh festival shows. One thing you can be sure of is plenty of great laughs.