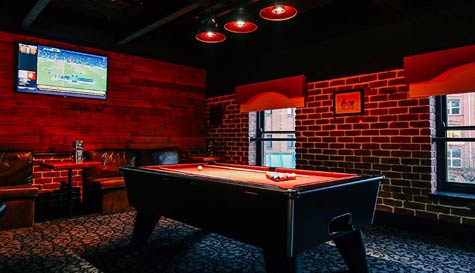 It's not a real stag weekend until you've got the key ingredients in place, sporting competition, food and booze. This fantastic package will put all three in one place so you can create a great evening for the guys without any of the hassle to show you are indeed the best man ever.
At this excellent city centre venue a pool table will be ready for you and the guys with two hours of action. That's enough time to have your own stag pool tournament. Or let the groom take on the rest of the guys with a stag forfeit for whoever loses each game.
The friendly and vibrant bar has 8 pool tables in total plus 5 large screen TVs showing all the latest sports news and action. You'll also be close to more great bars and restaurants although you can always order food from the bar's own bistro.
Now some might argue that pool doesn't take the most amount of exertion (they've obviously never played with a killer hangover) but here at StagWeb we know it's best to cover all eventualities. We wouldn't want you and the guys to go hungry, so we'll arrange for a selection of stag snacks for you to tuck into while you're playing.
And we don't want you getting thirsty, so you'll also have a round of shots to toast the main man on his big weekend. Before beating him at pool.