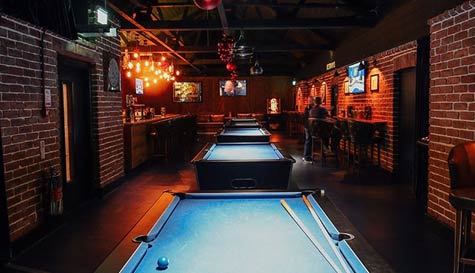 All good stag weekends need a few basic ingredients:
Cold pints
Hot sporting competition
Great mates
This evening package combines those basic principles to kick off your night in style. On arrival you'll be welcomed by the friendly bar staff, your pool table will already be waiting for you. Once all the guys have settled down you'll each get to pull your own pint (no you can't bring extra-large glasses!). You'll each be given an "I pulled my own pint" T-shirt.
A pool table will be ready for you to start some friendly competition, you could create your own round-robin or league style tournament and bring your own stag prizes and stag forfeits. There are also large screen TV's showing sports action.
The venue serves great food (if you're travelling from England, Scotland or Wales and have never tried an Ulster Fry then this is definitely the place to do it). You can set yourselves up nicely for a big night out.
The venue is right in the city centre, close to more great watering holes and clubs but with your own table and reserved area why move further away from such a great bar. Especially with your new matching T-shirts.