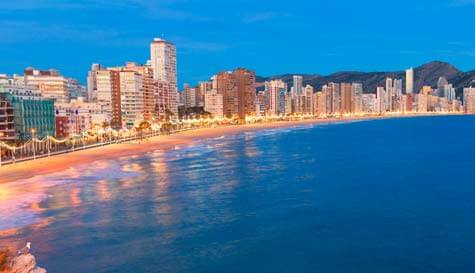 This truly is the bar crawl to end all bar crawls. It's the kind of night that you'll be talking about for years to come. It. Is. Epic! Trust us, years from now you'll be sitting around the fire still retelling tales of this unforgettable night out "Tells us about the bar crawl Grandad?"

100 party goers will set out on a 5 - 6 hour bender taking in a number of Benidorm's best watering holes. The bars and pubs will be ready to greet you with a free shot in each bar. And to make sure no one get's dehydrated the 8 reps have watering pistols to help keep you in line, it just so happens those guns are full of more refreshing booze. There'll also be plenty of games, challenges and occasional dares to keep the crowd, laughing, cheering and partying into the wee small hours of the morning.

The daddy of al bar crawls, its nights like this where stag legends are made. Much like US war veterans it's a memory that will bond you and your fellow stags for years to come "You don't know 'cause you weren't there man!".

Unlike those hapless pub crawls you see back home, where some bloke called "Kenneth" leads the group round a load of quiet boozers, with half an ale in each and some weird old drinking songs, this is the real deal. You'll be venturing in to the very heart of party loving Benidorm. But remember, stag dos never leave a fallen comrade behind.

Please note; While the party atmosphere and games are great fun, we would remind all our stags to please drink responsibly and never be afraid to say "Actually, I think I'll have a soft drink thanks mate."