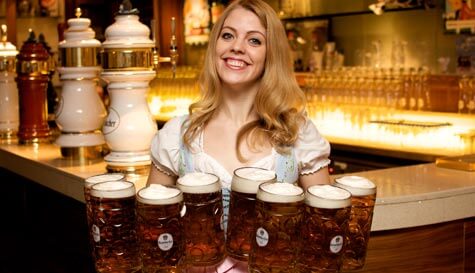 There are a number of things the German's are brilliant at - producing racing drivers, taking penalties, brewing superb beer and making proper man-food. Yep, you can leave the sushi and salad leaves aside for the evening, Bavaria creates food the same way it creates beer - extra-large.
Let's cut to the chase here, when in Rome, do as the Romans, and when in Germany you should drink like the Bavarians. We're not saying 'binge drinking', frankly that's all very 90's and the world has moved on. No, good Bavarians drink to enjoy the flavour, they drink because it's time to sing and they drink out of bloody great glasses.
However, as there's always a chance they might need to shoot off and take part in a penalty shoot-out or win a Grand Prix they always make sure they keep their wits about them by accompanying their beer with a good hearty Bavarian feast. This is the only way to get the lads 'fed-up' during a stag weekend.
With barely a lettuce leaf in sight, you can expect to tuck into traditional Bavarian flavours - this is mostly meat. And lots of it. It's the perfect way to get the guys refuelled and recharged after a day of sporting stag activities and wet the groom's head (not literally, that would be a waste of good beer).
Our Berlin stag party Bavarian feast works really well ahead of a German Bier Crawl or Guest List Nightclubbing. Ask our team for more details or any great price-saving deals.