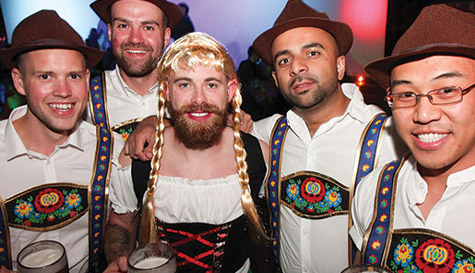 Strap yourselves in for a brilliant evening of authentic German entertainment as you and the boys celebrate the groom's big night out in true Bavarian style. The stag do Bierkeller Party Packages guarantee you reserved seating at one of the best shows in town as the hilarious Oompah band takes centre stage and kicks the party into gear.
With all the packages, you'll get entry into the show, reserved seating, table service and cloakroom access so you can sit back and concentrate on giving der Brutigam a memorable evening. You'll also get a variety of food and drink options to get the party started and keep it pumping.
With its long bench seating, traditional German décor and waitresses in their lederhosen it's almost as if someone has picked up Oktoberfest, sped it down the Autobahn, trundled it along the English motorways and dropped it off in some of the UK's biggest and best party cities.
And thank the lord they did because if there's one thing wrong with our tiny Island it's our tiny pint glasses. Not only do Germans know how to brew incredible beer, but they also serve it in proper sized steins. That's two-pints thrown into one. You don't need to be Albert Einstein to work out that's how it should be done… especially on a stag weekend!
At the brilliant Bierkeller, the fun doesn't stop when the Oompah band pack up their tubas and accordions, the resident DJ will then hit the decks and drop some of the biggest and best beats about so you can keep the party going until the early hours of the morning. "Fantastich!"
Silver Package
Entry to the show
Reserved seating
Cloakroom
Table service
Flavoured shot
Pretzel with cream cheese
House stein (beer, cider, cocktail)
Gold Package
Entry to the show
Reserved seating
Cloakroom
Table service
Flavoured shot
Pretzel with cream cheese
Premium stein option (house beer, cider, cocktail, ABK beer, Fruili beer)
Bavarian meal (choice of bratwurst, chilli bratwurst, cheese bratwurst, vegan bratwurst. All served American style in a brioche roll with fries)
Platinum Package
Entry to the show
Reserved seating
Cloakroom
Table service
Jgermeister shot
Pretzel with cream cheese
Premium stein option (house beer, cider, cocktail, ABK beer, Fruili beer)
Chicken or halloumi schnitzel served with creamy mash, sauerkraut, peppercorn sauce or Erdinger gravy)