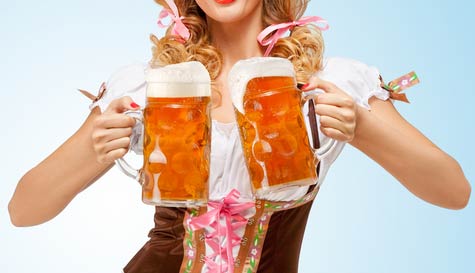 With free drinks, hilarious live music and a DJ spinning top tunes until 2am, our bierkeller entry stag party is an epic way to wet the groom's head (not literally, that would be a waste of good beer) while celebrating Germany's finest export with traditional Bavarian style.
On arrival, you'll be shown to your benched seating area by your own waitress who'll be on hand throughout the evening to ensure you're all suitably fed and watered as you celebrate the brautigam's last night of single living.
After a welcome shot and a complimentary stein of beer or cider (that's 2 pints in one massive glass), it's time for the party to begin. The volume will be cranked to 11 and you'll play a few party games to get everybody on their feet and occasionally on top of the tables.
A hilarious live band will then take to the stage to play traditional Bavarian drinking songs and don't be surprised if the frontman looks to the groom's table for participation like a lederhosen-wearing Keith Richards.
But the night doesn't end there, once the band have taken their final bows (and beers) a resident DJ will start spinning the decks to keep the electric atmosphere going until 2 in the morning, guaranteeing plenty of singalongs (and even in your inevitably intoxicated state, you'll genuinely struggle to forget the stupendous amount of fun you've had).
Our bierkeller stag party entry is essentially a taste of Munich's Oktoberfest without the hassle of flying out to Deutschland yourselves, and with gorgeous waitresses, authentic German cuisine and whole steins of beer or cider, you'll be itching to don the lederhosen again for round zwei.