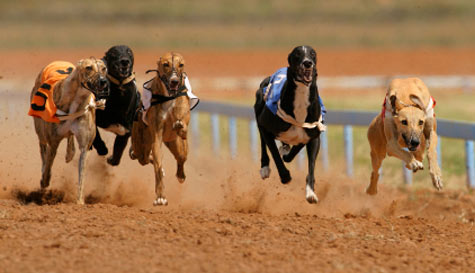 If you're looking for some fast paced sporting action to kick start your night out then our Bournemouth stag party greyhound racing is a winning ticket. We'll arrange everything for you (even transport if needed*), all you need to do is turn up, place your bets and eat drink and be merry as you watch the winners romping home.

Arrive at the stadium for 7.00pm for the first race which will starting around 7.30pm for most race meets. Once inside you can go walkies and enjoy all the facilities, head to the bar and line up the drinks as the guys study the form then place your bets on "Santas' Little Helper" or whichever runners catch your eye.

Then you and the lads can muzzle into some fine chow with a bar snack meal and two free drinks as you scream yourselves hoarse (or should that be "dog"?) while willing your longshots over the line. If you're lucky punters you could find you'll have lined up the night's drinking fund in one quick hit.

The gallery restaurant seats 300 and overlooks the track for excellent views as all the doggy drama unfolds on the track. First time punters are sure of plenty of laughs with the rest of the lads for what is always a great night of racing. In fact, as a way of getting your night up and running, Bournemouth stag party greyhound racing is the dog's bollocks!

*Transport may cost extra, contact our team for more details.