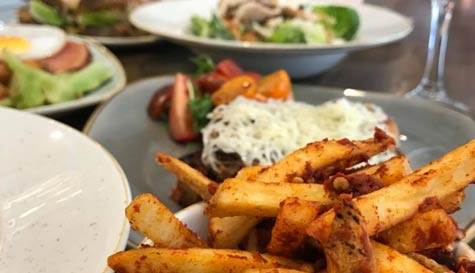 Feeding a large group of guys can be a pain the side order, especially if you're not organised. Hitting the streets of Bristol trying to find a restaurant that has a table for sixteen at zero notice on a busy Saturday night. Yeah, good luck with that! If you want to keep the guys happy then our top tip is to get it booked in advance.
This fantastic British bistro is right in the heart of the city, close to top bars and clubs so it won't take you too far from any drinking routes you might've planned (we like your style). They serve a great selection of contemporary dishes to suit even the fussiest of stags, and with a reserved table you can just arrive, sit down and get stuck in.
Even the bill will be no hassle ("The groom will pay for everything!") because we'll have it sorted in advance, no messing around with everyone trying to pay by card, messing around splitting the bill… The job will be done, giving you one less thing to worry about and proving yet again exactly why you are the BEST man.
You can choose either two or three courses.
Starter:
Halloumi fries
Whitebait
Smashed avocado
Main:
Cheese & bacon burger
Fish & chips
Pan-fried salmon
Vegan Moussaka
Desert:
Rhubarb & custard
White chocolate cheesecake
Vegan chocolate parfait
Please note; this is a sample menu and may be subject to change.
There's also a fantastic cocktail menu and drinks list, because man cannot live on food alone.
So, take all the hassle out of the evening, keep the troops fed and watered and make this a key stop on what is sure to be an epic night out!
If you have any particular dietary requirements within your group, please speak to our team so we can make suitable arrangements for you in advance.