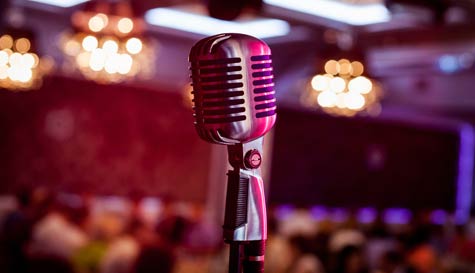 Bristol is one of the UK's most creative cities. As well as being the birthplace of satirical guerrilla artist Banksy, it has helped produce some of the country's most loved funny faces including:

Russell Howard
Mark Watson
Bill Bailey
David Walliams
Miranda Hart
Stephen Merchant

All spent time cutting their comedy teeth in "Brizzle". Our Bristol comedy venue is considered on the best places to catch the hottest emerging new comedy kings.
You'll have reserved seating in the 250 seater venue, once you've found your table you can head to the bar to make sure you have enough drinks to place on it. Make sure you get yourselves seated before the show starts as you don't want to find yourselves being a target by any funny man looking for comedy fodder as part of his routine.
The show will be kicked off by the regular compere who'll introduce the comedians. Some you might recognise from TV panel shows such as QI, Mock the Week, 8 out of 10 Cats, etc. Comedy clubs are where the new acts emerge. They are also where the big names head to when they want to try out new material and it's not unheard of for huge acts to make a sudden surprise appearance.
Comedy clubs are the best places to see great comedy, unlike huge arenas, the shows are more intimate and the comics are often more relaxed with plenty of time to banter with the crowd. You can be sure of a great night and the groom will be relieved that all the laughter isn't at his expense for a while.
The venue also serves food if the lads are feeling hungry. And after the show, you'll get access to one of the city's top nightclubs.