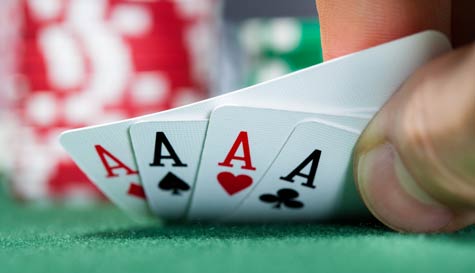 There's no two ways about it, casinos are among the coolest places on the planet, from Bond to Sinatra to modern day high rollers, the glitz and glamour of the tables has its own allure. And they are most definitely the perfect location to kick start a big night out (hopefully with a few big wins to treat the lads to a round of celebratory cocktails).

Our deluxe casino stag party experience is designed for experienced players and casino newbies alike. You'll be greeted with a welcome drink before sitting down to a three-course meal to set the lads up for the night ahead. Once everyone is feeling suitably refreshed you can then take to your own table where the newbies can be taught the game, or if you're all experienced players you can get straight down to business.

As well as table drinks service, the casinos have a bar, big screen sports, slot machines and a wide variety of gaming tables if watching the groom wining everyone's money becomes too much to bear. Our deluxe stag party poker night really is the ideal way to get all the lads around the table in a friendly environment with your own professional dealer and table drinks service.

So arrive looking cooler than Sinatra and the Rat Pack and get ready to enjoy a fantastic start to your big night out. Raise a glass to the groom and also the evening's winners, and with a bit of luck, hopefully that will be you.