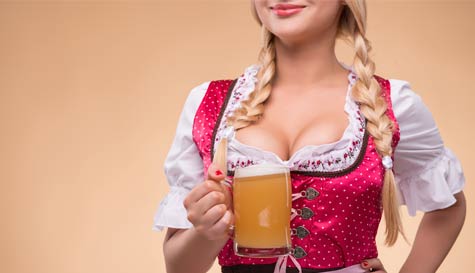 If you're going to Cologne, not enjoying Germany's finest export would quite frankly be criminal! Deutschland is recognised the world over as being among the finest purveyors of the pint (although if you're drinking out of German stein beer glasses that's actually two pints!). Their brewing excellence is indeed formidable, so to celebrate their beautiful amber nectar we'll arrange a bar crawl to remember.
Under the influence of a friendly guide, you'll benefit from their expert local knowledge of the latest and hottest bars on the scene. They'll lead your party to four top bars, be able to supply you with local knowledge of the local brews, introduce you to German drinking traditions and give you a heads up on which schnapps you should be shooting.
As strangers in a strange town, it's possible to waste precious drinking time trying to find the best bars and clubs, but with your very own guide taking the lead you can be sure of finding the best venues the first time.
Once the beer is flowing nicely and you've visited your fourth bar it'll probably be time to throw a few shapes. Your guide will show you the way and arrange entry to one of Cologne's top nightclubs.
If you're looking for a little something extra for the lads' big night out then you can stop off at a lap dance club to really put a smile on the blushing bridegroom's face. Please note this is an optional extra with a small additional fee.