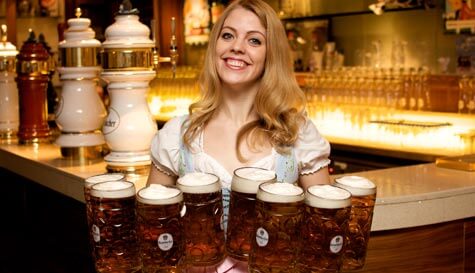 Man cannot live on beer alone... (don't try that at home, kids!), that's why we've created a Cologne stag party Bavarian feast. Situated right in the heart of the city this superb traditional Bavarian restaurant is the perfect place for a group of party-loving stags to eat, drink and be merry.
Once there you can tuck into a slap-up three-course Bavarian feast to get fully refuelled and recharged after a day of great Cologne stag activities and ahead of the night's celebrations.
You could also add Guest List Nightclubbing to your package or make sure the guests are suitably lubricated with a Bier Crawl.
Beer is perhaps Germany's greatest export so heading to this great beer-loving, penalty winning nation and not sample their finest product would be verging on criminal. A Bavarian feast gives you the perfect setting to raise a few glasses and wet the groom's head (by that we mean toasting, not simply upending your glasses, the restaurant's management will not approve). But this is a superb dining experience and the ideal way to kick start a big night out.