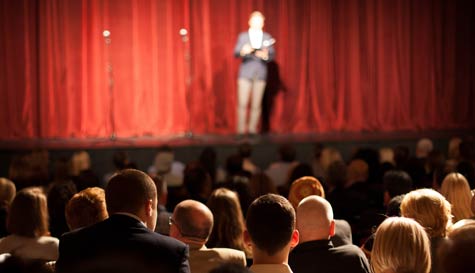 The chances are you've seen a comedy show where one unfortunate audience member has ended upright in the front row, directly in the performer's crosshairs and has received an absolute comedy demolition in front of the entire audience. Well with our comedy roast stag party you can guarantee your stag this treatment with the ultimate stag prank - a comedy roast in his honour.

After arriving at the venue for what he thinks is an ordinary comedy night, watch with devilish delight as your stag slowly realises that all the gags are about one person - him! Little does he know that you and the boys have already briefed the comedian on your stags embarrassing likes, the things he's squeamish about and his darkest, most shameful moments so that when he takes to the stage he can absolutely roast him. Although you'll have to provide us with the information 21 days in advance so the comedian can give your stag a true roasting with all gags firing.

Our comedy roast stag party is sure to create massive amounts of banter for your entire stag weekend and is the perfect way to kick of proceedings on the big first night. It's likely that with a beer in his hand he won't take it all too seriously and it's a great way to prank the stag while giving him a unique and memorable experience. Just be sure to watch your back at the wedding as comedy revenge is a dish best served with wedding cake.

Please note; you must send us all the information on the stag to us 21 days prior to the event to give the comics time to work on the material.