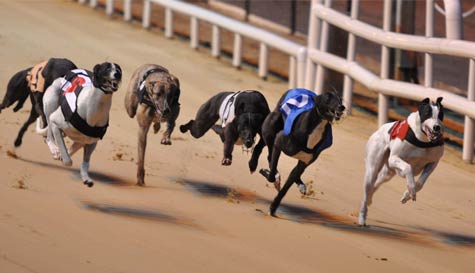 "Gone to the dogs" might well describe the groom's dress sense but it's also a great way to kick start a big night out. Fast paced and thrilling dog racing gives you a chance to have a few wagers, while enjoying some refreshing beverages and banter with the boys.

Our Dublin stag party greyhound racing could turn the whole party into winners, equally it could just see you all have a bloody good laugh while tearing up those losing tickets, "you makes ya bets and you takes ya chances".

The package consists of;
Admission and Race Programme
Euro 5.00 Food Voucher
Euro 2.00 Drinks Voucher
Euro 2.00 Tote Bet
For groups of more than 10 stags you can also opt to upgrade to include a finger food platter to suit the delicate little stags' pinkies. When washed down with a few pints of whatever takes your fancy and the action on the track you're in for a top night.
And you don't need to be race hardened punters, there's always plenty of 'faces' around the track who'll be able to give you the odd tip. Failing that just plump for the weirdest names and hope you get lucky. You could walk away with enough folding in your pocket to buy a round of man-cocktails later in the evening. Alternatively you could end up with nothing but racing ticket confetti so always bet only what you can afford, while it's a fantastic night out with the lads no one has ever walked away from a Friday night at the dog track as an overnight millionaire.
This is a really different type of activity and something you can't help but get caught up in and some of the most prestigious greyhound fixtures of the year take place at our Dublin tracks.
You can watch all the action unfold from the comfort of the bar. Or maybe the atmospheric restaurant, where you can relax and place a bet with table-side Tote betting service.