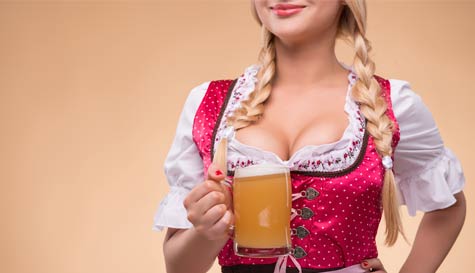 Hamburg is renowned as a vibrant party town, where the emphasis is heavily on excellent beer - and plenty of it! And when in Rome and all that it would be rude not to enjoy the local hospitality and sample some of the party-loving city's excellent beverages.
But as strangers in a strange town, you might not know your way around. And this is definitely one city you don't want to waste time in. After all, this is the city that John Lennon declared turned the Beatles from boys to men. You'll have a female English-speaking guide to help pave your way and show you to the best venues.
We all know the drill on entering unchartered territory: you end up walking around without the foggiest idea of where to go, trying to find a few decent pubs and going into every watering hole you come across, only to spot a truly great boozer at the end of the night when you're running out of steam. Well, chaps, thankfully for you StagWeb have the perfect solution!
In this 3/4-hour pub and bar crawl, you'll save the hassle and head straight to the top in terms of great beer and fantastic atmosphere - knowledge you can use for the rest of the weekend.
Upgrades
There's the option to upgrade this package to following:
Add 5 beers per person to the overall pub crawl.
'Hamburg Night' - A 5-hour tour of Hamburg's nightlife including pub crawl, lap dancing club entry and nightclub entry. (Includes female guide).
'Beach Bars' - A pub crawl in the beach bar area along the Elbe river of Hamburg. This 3/4-hour bar crawl includes 3-4 pubs and bars with your own female guide leading the way.