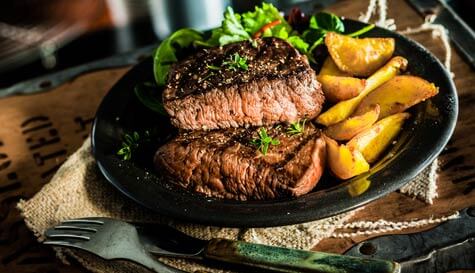 Forget Samba football, this is Brazil's great gift to the world. Somehow the nation's food seems to be the country's best-kept secret. Brazil's food is amazing (editor's note, this writer lived in Brazil for 18 months) and it really is superb and carnivores will be pleased to know it's pretty much all based around giant slabs of meat, tenderised and then cooked simply on over a flame.
But here's the trick guys, while it all seems really simple there is something about Brazilian meat that is just sensational, in fact, you haven't eaten until you've tried a Brazilian rodizio. The basic principle of rodizios is a traffic light system. You have a set of lights or cards on your table while the waiters carry around giant skewers of mouth-watering meat. Depending on where you're at you display the right colour to tell the waiters what to do;
Green - Bring me meat and lots of it!
Amber - I could be persuaded, what have you got?
Red - No thanks my plate/mouth/stomach is full.
You can then have your fill of the succulent cuts of pork, beef, lamb and chicken. There's also fantastic salads and sides to this superb all you can eat meal as well as Brazilian beers.