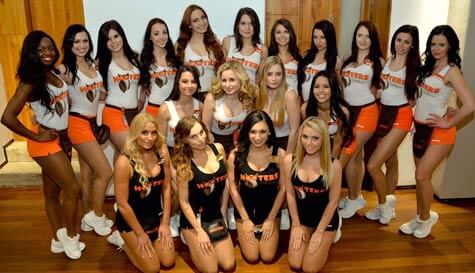 When it comes to amazing burger bars you can't help but enter any branch of Hooters and exclaim "Look at the baps on that!"
The American burger chain is famed for those firm, wholesome goodness. And it also cooks damn fine burgers. If you've never visited a Hooters before (shame on you! Where have you been?) then you're in for a real treat. During your stag do Hooters meal we'll arrange a reserved table giving you two hours of superb dining experience while being served by incredibly hot babes in incredibly small uniforms.
The menus, like the restaurant's visual entertainment come in generous proportions and include:
BBQ Shrimps
Double D burger
Baja Burger
Onions Rings
Ribs
Steak
Wings
Sliders
and more...
This is the type of dining experience that will put a smile on all the stag's faces. In fact, the only problem will be them paying enough attention to their plates to make sure they manage to land their food in their mouths as they go a little slack-jawed at the stunning honeys in their 'teeny-tiny' Hooters uniforms. Bless them all.
This is the perfect venue to give the blushing bridegroom to tuck into the last supper as a single man. He can eat, drink and be merry with all his best wingmen as he takes one final look at everything that is now officially out of bounds. And the waitresses really are great fun but any lad thinking the tight T-shirts are squashing their brains will soon learn at their cost that these hot babes have smarts as well as looks.
The only concern you'll have is getting enough beer to stop the guys from overheating. But you can soon head off to a top club with Guest List Entry to let the guys soak up their hanging tongues.