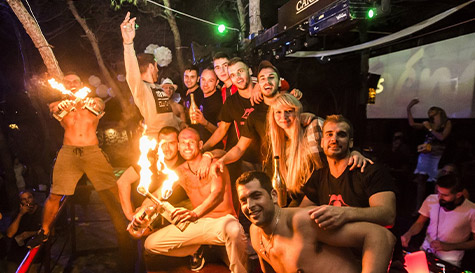 So, this is it. The moment you've all been waiting for. The night out to end all nights out. Yep, it's the groom's last blowout as a single fella! And what better way to send him off into marital life than heading to Carpe Diem Beach Club?! You and the guys will get entry to the best club in Croatia and experience a taste of Hvar's epic nightlife!
Follow in the steps of Prince Harry, John Malkovich, Tom Cruise and the whole cast of Game of Thrones, who have already experienced the very best of what Carpe Diem has to offer! DJs from all over the world are drawn to the beach club likes moths to a flame and travel from far and wide just to discover the awesome atmosphere and energy this club has to offer. Raise a glass to the groom and party to some of your favourite tunes as you dance from night 'till morning light!
We've organised enough stag dos to know that there's simply no time for stress. Which is why we pre-book and sort everything for you, so you don't have worry about anything on the night (except, perhaps, being humiliated by the groom's terrible dad dancing). Just head to the beach, hop on a speedboat and fly across the Med on a mission to party like you've never partied before!
VIP Upgrade
If you opt for the VIP Package, you'll get private speedboat transfers to the venue and, on arrival, a hostess will welcome you inside and show you to your VIP area. At your table, you'll find a bottle of vodka (0.7L for up to 13 stags and 1.5L for 14+), as well as ten mixers to keep the boys well-watered throughout the night. You'll also get some free shots thrown into the package for good measure. If you're interested in upgrading, simply speak to your destination specialist for more info!