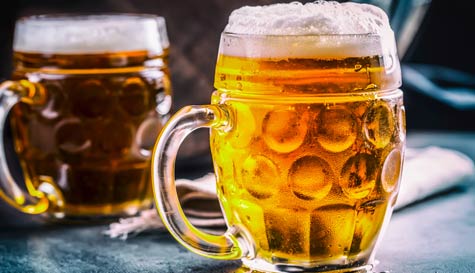 If you could describe your dream restaurant we're pretty confident it wouldn't be too different from this stunning Krakow stag restaurant.
Let's look at the stats;
You get a cute English speaking guide
A fiery welcome shot on arrival to wake up the taste buds
And two beers each
The restaurant brews its own beer on site
The beer is then pumped directly to your table
So you can pour your own pints
The first course is served in a bowl that looks like a boob
Yes, the guys will derive juvenile humour from it, they're stags!
The main course is proper main food and there's plenty of it
The restaurant has a great selection of spirits and top atmosphere
The meal will be pre-paid so you won't need to mess around with the bill
Plus
You can opt to eat in a private dining room
And include a female stripper
Extra fees will apply. Ask our team for more details.
At StagWeb we've tucked into stag party meals throughout Europe and beyond and this is, without doubt, one of the finest restaurants known to stag-kind and the perfect way to start any big night out.
We can also add extras like Bar Crawl, Lap Dance Club Entry, Guest List Nightclubing, or Naked Dessert.