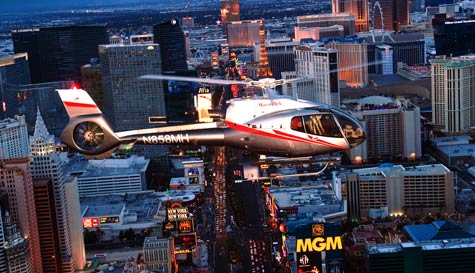 "The first rule of flight club is that you do not talk about flight club."
There is nowhere on earth that parties quite like Sin City and our Vegas Flight Club will give you the greatest view of one of the most outrageous destinations known to stag-kind, you'll cruise the world-famous Las Vegas Strip by helicopter, party bus (with your own bar, bartender and free drinks!) and get VIP entry to 3 amazing nightclubs.
If you're heading to Vegas the difficult thing is fitting in everything that you might want to do. This amazing stag activity is designed to give you a real taste and view of the city that very few get to enjoy as well as giving a touch of the rock star lifestyle. Vegas is a mecca for movie stars, rock gods and playboys looking for a good time and this gentlemen is how you party in style!
The adventure will begin with you and the boys being picked up from your hotel and taken to the helipad. You'll climb aboard the executive helicopter and take to the skies for a simply incredible night flight high over the bright lights of the world-famous Las Vegas Strip. Vegas is an amazing city but it's at night that it really comes alive and the best way to see it is from the air. From the Bellagio Fountain to the iconic 'Welcome to Las Vegas' sign you'll get an unrivalled view of the gambling and showbiz capital of the world.
The evening doesn't end when you touch down, in fact it's just getting started. You'll be met by our 'VIP rock star' host who will welcome you aboard the party bus limousine. Onboard this pimped up ride (done in typically Vegas-style) you'll find a free bar and bartender to make sure you're kept well-watered with free drinks. It really doesn't get much more 'Presley' than this. But your stag party rat pack doesn't simply want to cruise the streets (although it does feel totally cool), so your host will be with you to help arrange VIP entry to 3 of L.V.'s A-list nightclubs. These are some of the city's hottest clubs, visited by hot Vegas showgirls, passing rock stars and stag party legends. No queues, no fuss, simply instant access to the top venues.