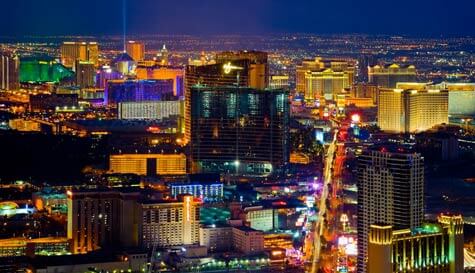 If you're "through with standing in line for clubs (you'll) never get in" then this is the Sin City nightlife experience of your tequila-fuelled fantasies. The Las Vegas stag party rockstar nightclub tour will see you and your band of lads heading to some of the best venues in town for an evening of VIP partying action as you live out your rockstar fantasies inspired by the likes of Slash, Gene Simmons, Keith Richards and Axl Rose.
After meeting at a premiere Las Vegas lounge, you'll meet your experienced party host who'll lead you to your ride for the evening: a luxurious party limo bus. This really is the closest you'll get to experiencing a nightclub-on-wheels, with banging tunes, delicious complimentary drinks and an onboard bartender taking care of all your alcoholic needs.
Throughout the night you'll visit 3 of The City of Light's most exclusive nightclubs where you'll be treated like the stag VIP's you are: with queue-jump and pre-paid entry, you'll be able to head straight into the thick of the action and throw shapes with Vegas' partying elite as if you were an A-list rockstar like Kanye West himself, albeit without a Kardashian on your arm!?!
Our Las Vegas stag party rockstar nightclub tour is an epic way to experience the Entertainment Capital of the World's best nightlife with the kind of exclusivity that's usually reserved for the rich and famous. "Hey, hey I wanna be a rockstar..."