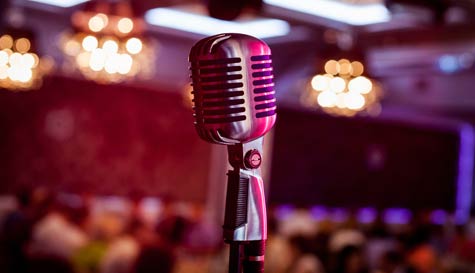 Step inside Leeds No.1 comedy venue for the perfect way to kick off a night of big laughs. And this isn't just a pub with a stage, the venue is a real big hitter on the comedy circuit.
This top club was the first venue to give Lee Nelson, Kevin Bridges and Alan Carr a gig. The UK's best young comics would all give their granny for a gig here, so you could well arrive on a night when the next big comedy thing takes to the stage. It's also not unheard of for some of the biggest stars to drop by to test material for upcoming tours or festivals. This is also a club that is the normal 'day job' for many a funny face you'll recognise from TV comedy panel shows.
You'll see three top acts with a comedy compere linking everything together and keeping the show running. But don't panic, there are breaks so there's no risk of getting dehydrated.
Previous comics to have played for laughs with this comedy team include:
Lee Mack
John Bishop
Rhod Gilbert
Lee Nelson
Alan Carr
Kevin Bridges
Sue Perkins
Sara Pascoe
Robin Ince
Jack Carroll
But that's not all...
The party just keeps on going as straight after the laughs you can live it up in one of Leeds' hottest clubs. You'll have a choice of eight bars, six dance floors (each with different styles of music), karaoke booths, man cocktails, meals... This is the night out that just keeps giving and perfect to give the condemned man/groom a proper send off. "It's what he would've wanted."