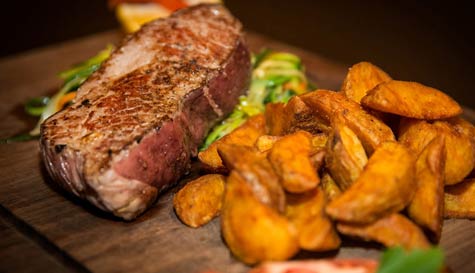 "How do you like your steak sir?"
"Just cut the horns off and wipe its a**."
And so goes one of the coolest movie lines that Clint Eastwood never actually said. But if you want something cool and even worthy of the square jaw movie legend himself then this superb stag party steak feast is a great way to kick off a big night.
To begin with, everything will be ready for you, no messing around, walking the streets, trying to find a table that just happens to have a table big enough to seat fifteen very hungry stags (good luck with that!). Step inside and we'll have your table prepared, you can just sit down and dig in.
Or at least you could. First, there's the little matter of a welcome drink, a warming local blueberry liqueur that is strong enough to have you all talking like Clint Eastwood in no time. With the toast to the groom's health out the way, you can now settle into his last supper.
You'll be served:
3 different types of bruschetta
Herb marinated olives
Slow roasted beef steak
Mixed grilled vegetables
Potatoes
There's also a grilled cheese option with mixed vegetables and potatoes for any vegetarians in the group.
But that's not all, you'll also get two rounds of drinks with a choice of:
The rustic setting makes a fitting ambience for the guys. And then, of course, the real star of the show… Steak! It's proper man food and the perfect way to set the guys up for a top night out and definitely fitting for the groom's last weekend of happiness. Yeah, he's getting married so the condemned man should at least be given a good last meal.