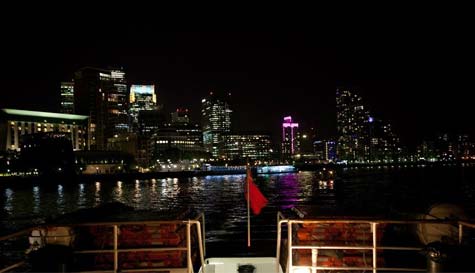 The Thames is one of the most definitive and recognisable rivers in the world, cutting right through the capital city and takes in a colossal amount of world famous landmarks. Though rather than battling through the map-hypnotised tourists, fighting through the underground or stuck on congested roads you and the boys can opt for a London stag party boat cruise and take like ducks to water, hitting the nation's most famous waterway. Drinking like fish optional... although fish actually drink dirty water, or as we like to call it "American beer" (please remember to drink responsibly).

We've found the ultimate party environment for you with a variety of boats depending on your group differing in capacity between 40 and 600 which offers an unforgettable way to celebrate the end of the groom's freedom. You can either join a party boat or (if your numbers are big enough) hire a boat all to yourselves.

On the inside, the boats have several levels of entertainment areas, kitchens, fully-stocked bars and spacious dance floors for even the most wayward stags to throw a few shapes without hurting any innocent bystanders. The vast outdoor deck area is great for checking out one of most iconic and famous cities in the world - you'll have a unique vantage point to look at the floodlight city and marvel at historical buildings and sites such as Tower Bridge, Big Ben, Canary Wharf, the Houses of Parliament and St Paul's Cathedral.

This is an epic night of partying, laughs and dodgy stag dancing. In fact it's exactly the kind of night stag parties were invented for and definitely a night the lads will thank you for organising. "Gentlemen... Prepare to party!"