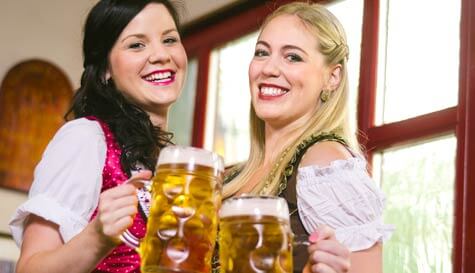 There are few things that British blokes don't like to admit the Germans do better than us even though we know they do really. Cars, sausages, even football. But there is one thing that we shouldn't really argue with on any grounds, and that's German bier-hauses.

These are wondrous, bier filled havens stacked with gorgeous food and the best, most delicious alcoholic drinks you could possibly imagine. All delivered by waitresses who look like something out of an Erdinger induced fever dream.

So naturally, these hauses are the ideal locations for an epic stag night. In our London Bier-haus, you and the boys will discover first hand just how awesome the Germans equivalent to a pub really is. Your adventure into Bier-varia will begin with a welcoming shot of schnapps each before you receive your stein of bier.

'Steins' are basically massive pints, by the way, get familiar with the Deutsch lingo quick, otherwise you could end up drinking a lot more bier than you thought if you were under the impression that a stein was just your average pint... something the groom will be in no doubts about after he's drunk his complimentary 3 litre stein all to himself!

You'll be given a mass platter of German sausages or schnitzels to help all that bier down as well, and of course, the beautiful fraulein waitresses will be on hand at all times to make sure that the bier never stops flowing.

For our London Bier-haus stag party, you won't have to travel all the way to Munich to experience Oktoberfest, because this awesome venue is open all year round. This really is a great night where you and the lads can experience bier and German hospitality (not forgetting those bloody big glasses!) at its finest. Wunderbar!