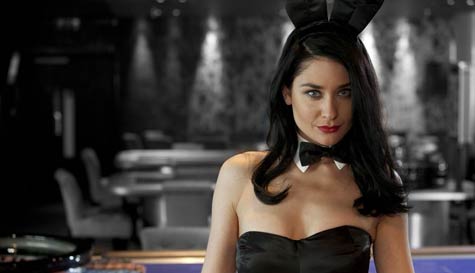 Hugh Hefner knew how to party, in fact, we'd go as far to say he was a party god, his last wife was 53 years younger than him. But without doubt, his greatest legacy is the Playboy brand, from the famous magazines your dad hid under his bed as a teenager to the legendary Bunny Girls. And now you and the guys can taste a slice of the Hef life.
You'll enter the casino where you will be treated like the stag legends you are. As you enter you'll see all the staff are bunny girls, the barmaids, waitresses, croupiers, you get a small glimpse into what the Playboy mansion must have been like in its heyday. This is London's Playboy Club. Hallowed ground indeed and the perfect setting for a stag weekend.
A games table will be reserved for you with your very own bunny girl croupier and a bunny girl drinks service, so you can focus on the game (easier said than done when your mind is focused on bunny tails). You'll also be able to tuck into a selection of bar snacks wings, ribs and fries.
The table service will continue after the two-hour game session has ended. So, step inside gentlemen and remember if life ever throws you a curveball ask yourself one question... "What would Hef do?".