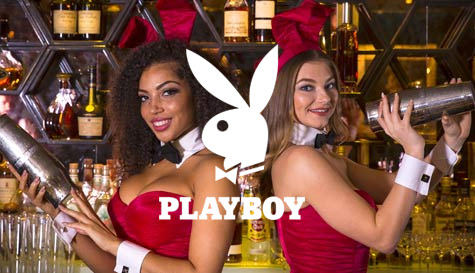 Playboy. It's the last word in party perfection. For years the Playboy clubs and legendary Playboy Mansion have been the stuff of legend and home to the incredible Bunny Girls.
This is a real piece of hedonistic history, the venue that trumps all other party venues. You've hired the Natural History Museum? Yawn. Reopening the Hacienda club? Wha'ever. Going to the Playboy Club? Now you're talking!
Inside you'll be greeted by bunny girls who will show you to your table. A bunny girl bar babe/mixologist will then teach you and the guys how to make three classic whiskey cocktails, skills every man should have and you can show off at your next party or BBQ (If only you knew how to get your own bunny girls!). The guys will also be served a playboy burger and fries.
No name conjures up such images of pure party pleasure. Men in flared coloured shirts, chain-smoking cigarettes, lit with gold plated lighters as smoking hot babes chat and serve drinks with their white fluffy tales twitching as they walk. It's the perfect venue to give the groom the kind of send-off he deserves and something the guys will talk about for a long time. Making you a stag legend!