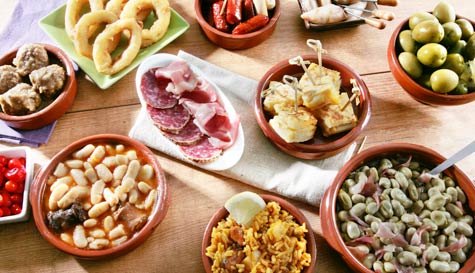 In the interest of international relations, we need to clear something up. Tapas is NOT a meal. It's bar snacks. Tapas as a meal is like inviting some Spaniards round to your house and serving them a selection of peanuts and pork scratchings. For dinner.
This fantastic tour is not a replacement for your dinner.
What it is, is a great bar crawl with a friendly female guide plus a drink and a selection (2-3) of tapas in each bar.
Types of dishes (may vary)
Pinchitos Moruos: Moorish kebabs
Albondigas en Salsa: Braised beef & pork meatballs
Gambas al Ajillo: Fresh prawns in olive oil with chilli peppers & garlic
Revuelto: Scrambled eggs with fillings
Cazn en Adobo: Fried marinated dogfish
Calamares: Fried squid rings
Chipirones: Small squid grilled "a la plancha" (on the griddle)
Chocos: Deep-fried cuttlefish
Espinacas con Garbanzos: Spinach & chickpeas with garlic & olive oil
Patatas Bravas: Fried potato wedges in a spicy aioli sauce
Bacalao: Salt cod, breaded & fried in tomato sauce
Jamn Iberico: Thinly sliced salt-cured ham
Ensaladilla: Potato salad with prawns or tuna
Calamares del Campo: Peppers & onions fried in breadcrumbs
Gazpacho: Traditional cold tomato soup
Solomillo al Whisky: Pork tenderloin in whisky & garlic sauce
Salmorejo: Thicker version of gazpacho, often used as a sauce
Tortilla: Potato omelette
Montaditos: Small filled tasted buns
Arroz del Da: Rice of the day
Croquetas: Croquettes made with béchamel sauce
Jamon Serrano: Mountain-cured ham
Boquerones en Vinagre: Fried anchovies
Please inform us of any dietary requirements in advance.