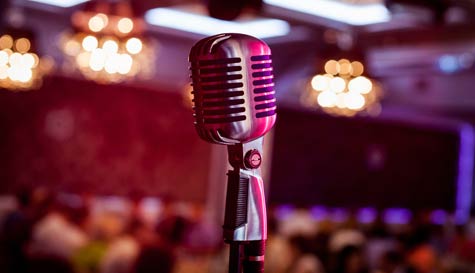 This isn't just any comedy club, this superb venue is most definitely in the premier league of comedy clubs and has played host to some amazing acts over the years. In fact that's one of the best things about comedy clubs, you never know who might drop in for a bit of funny business or where the current crop of acts will be in five years' time.

Many of the funniest faces in comedy learnt their trade in the UK's comedy clubs and our Manchester comedy venue has helped shape the careers of;
Caroline Aherne
Sean Lock
Frankie Boyle
Kevin Bridges
Lee Mack
Doc Brown
Bill Bailey
John Bishop
Jimmy Carr
Lee Mack
Jason Manford
Dara O'Briain
Terry Alderton
And more...
If you've never been to a comedy night before, the basic format is simple, most nights feature 3 comics and a compere. The talent and styles will vary but you are likely to see faces you'll recognise from TV comedy panel shows, while the new comics soon will be.
The venue is unique on the comedy circuit as it features a 500 seat, theatre-style auditorium and is considered a real step on the comedy ladder. It is also a known drop-in for well-established comics looking to sharpen their material ahead of UK tours or the Edinburgh festival.
Our one word of warning would most definitely be; don't tell them you're a stag do. You'll be comedy fodder to the comics on stage, they really will chew you up, get a good laugh out of you, and leave you at the mercy of the audience.
However it is entirely possible to get the groom become exposed (so to speak, oo-er missus, nudge nudge, wink wink) by letting the venue know there is a soon to be married man in the house.