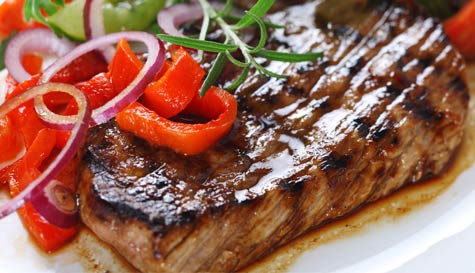 Argentinian steak is without question the finest in the world, mouth-watering, succulent, many people say you really haven't had a good steak until you've tried Argentinian meat. And now's your chance.
This fantastic Argentinian restaurant has won huge accolades from various bodies including Trip Advisor. Inside you'll find a really trendy restaurant with sleek contemporary design. The same artistry is applied to the menu.
Firstly they use Argentinian cattle, arguably the finest in the world. They then cook it to perfection and your exact specifications (although they are likely to look down on anyone who would want there's cremated). There are different cuts to suit your preferences:
Rib-eye
Entrecote
Strips
Fillet
T-bone
And the average rib-eye steak weighs in at an impressive 300g.
As well as beef there is an impressive selection of dishes for meat eaters, chicken stuffed pork, lamb chops and more. This is a veritable feast and dining on the finest steaks, after a day in the sun and with a night of partying ahead of you is the perfect way to see the groom off in style during the big weekend.
There are three fantastic courses and the wine and beer is included as part of your meal. Plus with everything pre-paid you won't need to worry about trying to split the bill (although you might need cash for any extra drinks you order).