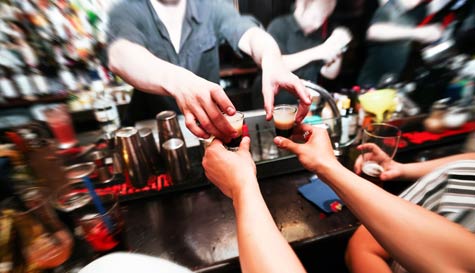 To not go on a bar crawl on a stag do...? Frankly, there should be laws against that kind of thing! What kind of stag organiser puts together a stag weekend and doesn't arrange a bar crawl!?! Not you we hope.
It's an age-old tradition that probably dates back to pre-historic times when old Chris Caveman was only allowed out by his missus on special occasions and thus the bar crawl was born and Marbella stag party bar crawls are awesome!
Puerto Banus has some absolutely amazing bars, most of them within easy crawling distance of each other, the joy of joining an organised stag weekend is;
The local guides know the best bars
You'll be joined by other stag and hen parties
You'll get great deals at every bar
You can expect games, tricks and madness along the way
This really is something every man should go through before he gets married with his best men around him and a Marbella stag party bar crawl is probably one of the best places in the world to wet the groom's head. The fact that you'll be part of a bigger crowd makes it an even bigger party. With local guides leading the way this is the best way to really hit the town in style.
It's the daddy of bar crawls...
The bar crawl to end all bar crawls...
It's bar-megeddon!
So, come and have a go if you think you're thirsty enough!