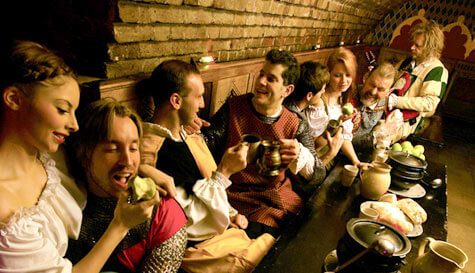 My lieges! If you and your fellow lords are looking for the finest feast the land can offer you on your epic weekend away then we have just the thing for you. Our stag party medieval banquet will let you and the boys take a journey back in time to the middle ages and allow you to dine like kings.

You and the guys can arrive like modern-day knights of the round table (fancy dress is welcome if you really want to go the whole hog/roast). Everything really will conjure up the dark ages, even the groom's age-old jokes, the setting is also suitably fitting for you to get hail and hearty with a stag do Game of Thrones style feast (but with less slaughter and back-stabbing).

You and the lads will eat, drink and be merry as you're entertained with traditional medieval performances. Whether you witness the songs of troubadours, the tricks of magicians or a clash of knights, your stag party is sure to end up involved in proceedings. Whatever happens, you're all sure to raise your goblets, for tonight you dine like kings!

Our stag party medieval banquet is available in a wide variety of locations, so whether you're spending your big weekend in London or Riga, you'll never be far from the ultimate feast. This could prove to be the highlight of your weekend as you're treated to stag-sized servings of ale, food and unforgettable entertainment.
Please note: Menus and entertainment will vary between venues. Please ask our team for more details at time of booking.