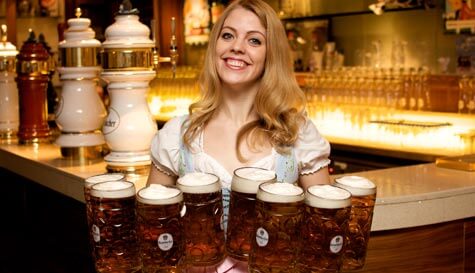 It's certainly true that a stag party marches on its stomach that means it's vital you keep the lads well-fuelled and fully charged at all times. Well, you don't want any of the precious little soldiers wasting away now. If you're in Munich there's only one way to keep the boys 'fed-up' and that's with a traditional Bavarian feast. Well, this is Munich after all, so anything else would be a dereliction of your best man duties.
When in the home of the world's greatest beer festival we really would advise you to 'go native' and tuck into the best food the region has to offer. We're not knocking sushi and salad leaves are great. If you're a rabbit. But for stags something far more manly is called for, so along with those fantastic German bier steins (2-pint glasses), Bavarian restaurants specialise in hearty meat dishes. There are vegetarian options available but for the carnivores among you are in for a real treat.
Beer is by far Germany's greatest export, along with producing F1 champions, quality engineering and penalty shoot-out winners, beer is perhaps what Germany does best. And to really honour their most beloved of beverages you need a meal of man-size proportions. And that means going Bavarian.
The restaurant is based right in the heart of the city and you'll be accompanied to the restaurant by one of our female English speaking guides. This is the perfect way to refuel after a great day of sporting stag activities ready for a big night out.
We'd recommended teaming up a Bavarian Feast with a Guided Bier Crawl and/or Guest List Nightclubbing.