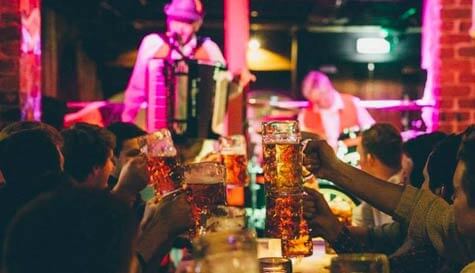 Can't make it to Oktoberfest this year? Don't panic, you can still get into the Bavarian beer-swilling swing of things at this superb Bierkeller on your Newcastle stag do. It's a hilarious, well oiled night out with bloody big beer glasses and audience participation (plus possibly a chance to stitch up the groom).
On arrival, you'll be shown to your table and each stag will receive a complimentary drink. Once suitably refreshed, the house band will take to the stage for sing-a-long comedy and random acts of madness. Depending on the package you opt for you can dive into shots, cocktails, German frankfurters and of course the legendary bier steins and of course a smattering of fabulous frauleins serving the tables and pouring the beers.
PACKAGE 1
Reserved Table
Dedicated Waitress Service
Haus Stein OR Haus Stein Cocktail*
Cloakroom
PACKAGE 2
Guaranteed Table
Dedicated Waitress Service
Haus Stein OR Haus Stein Cocktail*
Giant Frankfurter
Ski Shot Rack (one free shot per person)
Cloakroom
*Haus Stein are 2 Pints
This really isn't your average night out and is sure to see the lads laughing and yes, even singing along in a suitably rowdy, light-hearted atmosphere. Plus when you're drinking steins (two-pint glasses) not only does that mean fewer trips to the bar, but with waitress service, there are no trips to the bar as all your drinks will come to you. So you can sit back, enjoy the show, watch your mates having a superb time, toasting the blushing bridegroom and congratulate yourself on a job well done.