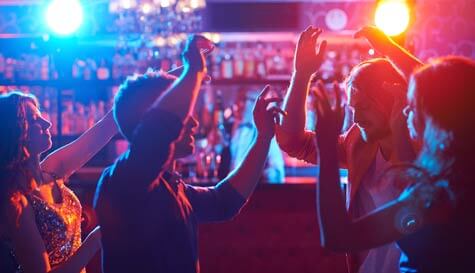 This isn't an average night out. You're stags on a mission to make sure the main man has a night out of epic proportions, quite frankly anything less is simply not acceptable.

You don't want to have to waste time queuing to get in, or stopping to pay the entrance fee and with StagWeb you won't have to. Our Newquay stag party guest list nightclub entry will give you instant access to the hottest venue in town. Bypass the queue, give your names to the doorman and you'll be welcomed inside like the Lords of the Stag you are.

The club features a state-of-the-art sound system, themed rooms, multiple bars, resident and guest DJ's, drinks promotions and of course top tunes. Whether you want to party to old school dance classics, the latest tunes, funk, RnB, garage or even a few cheesy school disco classics there is something for everyone (although you're unlikely to hear a Justin Bieber megamix which may or may not impact on the groom's top night out).

Finding a good club and getting a large group of lads inside can be difficult, but with StagWeb's Newquay stag party guest list nightclub entry all of that will already be taken care of, meaning you can head out with confidence, knowing that a top night in one of the UK's best party destinations. "Gentlemen... Prepare to party!"