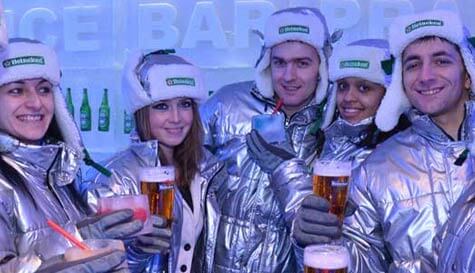 As a part of one of the biggest nightclubs in Europe, this ice bar is a well visited and awesomely unique venue. Chill out before you party hard in the venue's accompanying nightclub; your entry is included, so you'd be silly not to make the ice bar a part of an awesome stag night out!

Upon arriving at this sub-zero bar, you'll be given some thermal coats, gloves and hats styled space age reflective silver for a truly surreal drinking experience. The thermal kit will keep you warm as you cool off in this constantly -7 degree venue, that's not to mention the added refreshment of a freezing cold pint of Heineken or vodka cocktail served in a handmade ice glass. Just be careful not to get brain freeze!

Our Prague ice bar is one of the coolest bars in the world, and we'd bank on none of the stags having seen anything like outside of the movies. With its combination of chilled settings, icy cold drinks and action-packed clubbing next door, the ice bar is a must-visit as part of one of the most surreal evenings you'll ever have.

Break the ice between any stags who don't know each other, cool off and get the groom to chill out about tying the knot all at once. What more could you possibly ask of a bar?