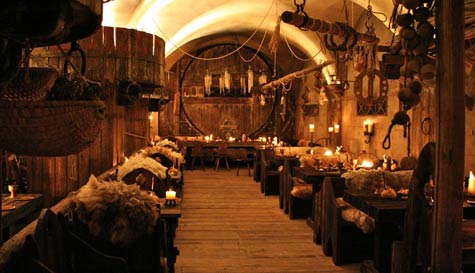 It's a stag do, you should be treated like noble lords and having your fill as you eat drink and be merry. It would also help if you were served by sexy serving wenches. Hey, we're not being sexist, this is a step back in time to an age when men were men and stags were something you shot at with a bow and arrow (no you're not allowed to hunt the groom!).
This fantastic night on the tiles starts with one of our friendly female guides meeting you at your accommodation and escorting you to the restaurant, where a table will already be waiting for you covered in candles, animal furs, thick ropes and ironwork hang from the ceiling and the serving wenches will greet you with a smile.
The meal itself is five stag-sized portions of amazing medieval dishes all served in candlelight with gnarled benches and tables. As the 'ale doth flow' the entertainment will begin with some truly weird stuff going on, comedy, music, sexy fire acts, there might even be a chance to volunteer the groom to become part of the show.
There are also swordsmen, jugglers, dancers and all kind of ancient acts with some serious weaponry on display *and we're not just talking about the serving wenches cleavage.
As well as 5 courses, each of the stags will have two beers to toast the groom before you head off to your next destination. Ask our team about lap dancing or guest list nightclub entry.