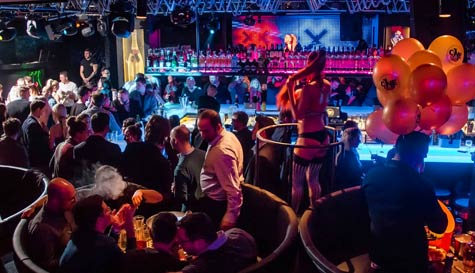 Gentlemen, this is how to party in style. Prague is full of amazing nightlife, but O1ne Club is where everybody who's anybody will be on the weekend. The awesome high-tech sound system, futuristic LED lights and stunning performers, it's the kind of place that stag parties were invented for.
But this isn't just any night out. This is the groom's last evening as a single man, so we've lined up a bit more of, well, 'more' to make sure it's one you'll remember long after the I do's.
More VIP
A friendly female guide will meet you at a pre-arranged location with a taxi and take you straight to the club. No queuing for you we've sorted priority entry, so you can walk past the rest of the paying party goers and straight to an exclusive VIP box.
More drinks
A bottle of spirits, mixers and a selection of snacks be waiting for you, along with a round of welcome drinks to ensure you get the night started in style. Bottoms up!
More… Everything
With five super-fast bars, two DJ stages showcasing the best local talent and three floors of clubbing action, it's no surprise that this venue has earned itself legendary status amongst Prague's party-loving locals.
This is a great way to add a special touch to the groom's big night out and earn some serious best man points as the guys are welcomed into one of the city's most exclusive nightclubs. No hassle, no fees, no fuss.