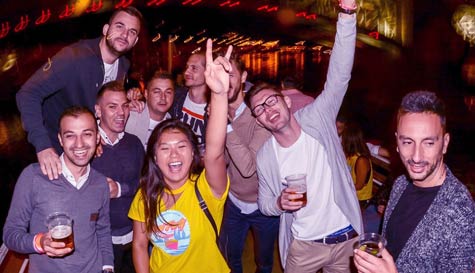 As best man it's your duty to give the groom a legendary send-off, the kind of night the guys will remember for years to come. This amazing cruise really does deliver on all fronts and will be the highlight of the weekend.
The adventure will begin with your guide who will meet you at your accommodation and take you to the boat, alternatively you can join the pre-party, you'll meet much earlier at the designated bar where the drinks just keep flowing and after the cruise head to a top nightclub (ask our team about the pre-party, nightclub and drinks deal, fees apply).
Once aboard the boat, it's party time! The boat cruises down the Vltava taking in some of Prague's best sights which look even cooler at night, especially with some top tunes and a drink in your hand. The boat has a bar and live DJ and sound system, party hosts will organise drinking games which you can join in (and nominate the groom). As well as a closed deck you can stay under the stars with the open top deck which gives amazing views of the river.
The boat can hold up to 500 party people making this one of the best nights out in the city and definitely something the guys will be talking about when they get home.