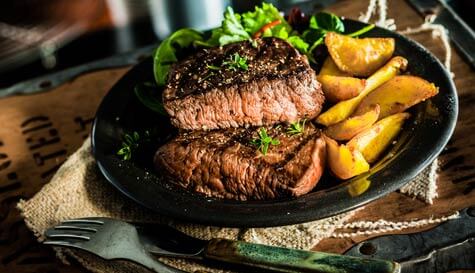 With all the adrenaline pumping stag action that you're bound to get involved with on your big weekend in the Latvian capital, you're going to end up hungry. True, you could just find the local McDonalds; 'Large Big Mac Meal' is pretty much the same in any language!

But if you and the boys fancy getting a taste of some Baltic classics while in Riga, a three-course Latvian meal is the perfect evening activity for you.

Enjoy the real taste of Latvia on the buzzing Dome Square at the heart of the city. In this gorgeous traditional restaurant, you'll find a huge variety of gorgeous dishes, all with unusual names which are references to a traditional Latvian comedy named 'The Devil's Servants' (that's one for a QI quiz night!)

You'll be given the chance to choose some delicious Baltic dishes like grey peas, schnitzel and potato pancakes. If you and the lads are feeling really adventurous, why not try some of the more exotic options such as blood sausage or bull's testicles? If you're man enough, of course.

Whatever you order, it'll all come with complimentary lemon water and bread. You'll be waited on by some friendly staff who probably won't mind taking a photo of the lads laughing behind the groom as he looks worryingly at the bull's testicle he's ordered for mains!

This three-course meal is sure to provide the boys with big laughs as you spend some quality downtime trying some new dishes in a dining experience unlike anything back home.